Exercising is not easy. If anyone tells you it is, it's because they have made it a way of life. And guess what? you can do that too. Yes, it is extremely hard in the beginning but when you figure out what works for you and you have a routine, it becomes easy. However, even with a routine, on some days you just don't feel like going through the trouble and this is normal.
Exercising and keeping fit takes a huge amount of dedication and self-discipline. Are you feeling uninspired to workout? why not read these quotes to recharge and get working!!!
1. "Your only limit is YOU."
2. "The pain you feel today will be the strength you feel tomorrow."
3. "If you think lifting is dangerous, try being weak. Being weak is dangerous."
– Bret Contreras
4. "The clock is ticking. Are you becoming the person you want to be?"
– Greg Plitt
5. "Your body can stand almost anything. It's your mind that you have to convince."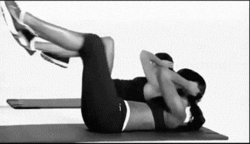 6. "Fitness is like a relationship. You can't cheat and expect it to work."
7. "If you want something you've never had, you must be willing to do something you've never done."
8. "You are so much stronger than you think."
9. "It always seems impossible until it is done."
– Nelson Mandela
10. "Nothing truly great ever came from a comfort zone."
11."Whatever you want to do, do it now! There are only so many tomorrows."
– Michael Landon
12. "You are only one workout away from a good mood."
13. "The only bad workout is the one that didn't happen."
14. "Workout because you love your body, not because you hate it."
15. "Never ever give up"
– Winston Churchill
So get up and work out.
Mariam Shittu